April 18, 2017 11:00 am
A big investment and a big commitment, buying a property for the first time can be daunting. Throw in a range of terms you don't understand and a variety of lengthy legal requirements and the process can make even the most courageous buyers think twice.
To help you navigate your way through the complex world of first-time purchases, here's a first time buyers (FTB) guide to getting your foot on the first rung of the property ladder.
Budget
The first thing you'll need to think about when planning your property purchase is your budget.
Without a clear idea of how much you have to spend, any time spent looking at online estate agents or property websites will be wasted.
Deposit
Before you calculate your total budget, you'll need to take a long hard look at your finances and work out exactly how big your deposit is.
In general, the bigger your deposit the better deal you'll get from a mortgage lender. If your deposit isn't looking too healthy, there are government schemes like Help to Buy available that enable buyers to purchase property with deposits of just 5%, so don't write off your new home just yet.
Mortgage
Though lenders are offering more deal to first time buyers, securing a mortgage can still be difficult.
Factors like your credit score, your salary, and your deposit will dictate how much you can borrow. There are mortgage calculators available online that will give you an idea of your budget, however, it's always best to talk to a lender face-to-face.
There are lots of different types of mortgage available, so make sure you do a bit of research to find the option that suits your circumstances the best.
Property
Once you've saved your deposit and secured a mortgage offer, it's time to start your property search in earnest. Online estate agents are a great place to start your search as they allow you to create a property shortlists from the comfort of your own home.
Draw up a list of 'must haves' like a number of bedrooms, location, and decorative state, then make another list of qualities you'd like to have but that aren't deal breakers.
But remember, finding a property that's absolutely perfect and affordable is extremely rare, so be prepared to compromise.
Viewing Properties
Before you begin looking at properties seriously, it's a good idea to go along to a few viewings to see what's available in your price range and get an idea of your options.
This will also help you to narrow down exactly what it is you're looking for and should make the final decision much easier. Remember it's almost impossible to get a good idea of what a property is like from the photos, so get off your sofa and get viewing.
If you're buying in booming markets like London, a property is likely to move incredibly quickly, so if you see something you like, go for it.
Making an offer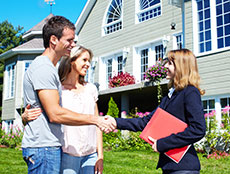 If you already have a mortgage in place and your deposit sorted, you're in a great position to make an offer as a first-time buyer.
When your offer is accepted, you'll need to find yourself a lawyer and get all the relevant checks done the property before you are able to proceed with the exchange of contracts.
If there are no major issues with the house, you should be able to complete the purchase and move into your first home within a matter of months.
---
blog comments powered by

Disqus